Stop by and enjoy a

Mix & Match

Hot Brewed Coffee

Flavored Espresso Blast

Cappuccino

Mocha Blast

Tropical Breeze

Peaches and Cream

Avalanche

Americano

Detox Tea for Weight Loss

Squeeze Play

Blueberry-Pom Shake

Tea (Hot or Cold)

Lava Flow

Bango Bash

Funky Mocha Monkey

Banana Split

Latte

Red Eye

and

Lunch Combo

6" Submarine Sandwich

Large Lunch Combo


Drive Thru is Now Open!
It's pretty much always smoothie season!
Churn your favorite flavors into icy concoctions that cry out for daily consumption. Smoothies are a highly trending favorite. Perfect for all seasons, they're the answer for outdoor entertainment, nutritional breakfasts and infusing insanely creative opportunities into any menu. We are focused on delivering great-tasting smoothies in a wide variety of flavors & options to fit the unique needs that your taste and lifestyle demand. Our smoothies are famous for their taste! All of our delicious fruit blends are 100% natural, with no artificial flavors, sweeteners or colors. Available in a variety of tropical flavors, our smoothies are low-fat, gluten-free and kosher-certified, which can be mixed together for endless tropical flavor delights.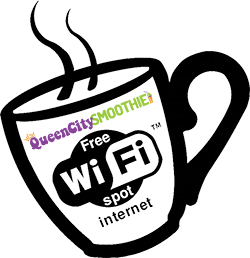 Not Just Smoothies - We Have Breakfast & Lunch!
You'll definitely want to come see us more often with hot breakfast options and sub sandwich combos for lunch! Good coffee, organic juices & smoothies, flavorful fresh fruits, food prepared daily, and more along with Free Wi-Fi and sitting areas perfect for hanging out with friends & family. Queen City Smoothies provides customers with natural juices, smoothies, and food items that are delicious and quick. At Queen City Smoothie, we carry a wide range of coffee, espresso, and blended coffee drinks to give your day the pick me up it needs!
I love their smoothies! Great place to hang out after school with the kids